Most Marylanders think of Pit Beef as standard BBQ fare, although technically it's not BBQ since it's grilled – not smoked low and slow.   Anyone who has seen the Orioles at Camden Yards knows the scent billowing from Boog Powell's Pit on Eutaw Street. With restaurants, countless roadside stands and fundraisers serving it, if you spend some time in Maryland, you will find it.  It's an inexpensive way to feed a lot of people and it's very easy to do on the Primo.
We found a 25lb "steamship round" (part of the whole "steamship") but this method will work for any size cut of round.
Maryland Style Pit Beef Rub:
½ cup of salt
¼ cup onion powder
¼ cup garlic granules
1/4 cup smoked paprika
2 tablespoons dried oregano
2 tablespoons dried thyme
2 tablespoons freshly ground black pepper
This amount of rub will work well for a 25 pounder – adjust accordingly.
Prepare the Primo- light on both sides and insert the ceramic d plates.  Since we aren't adding smoking wood or chips you can put the d plates in right after lighting.  Close the lid and open both vents all the way.  Bring the grill to around 350.  We recommend closing the bottom vent to about an inch once grill gets to 300 or so to slow it down.  Close the top vent to only have the wheel holes open.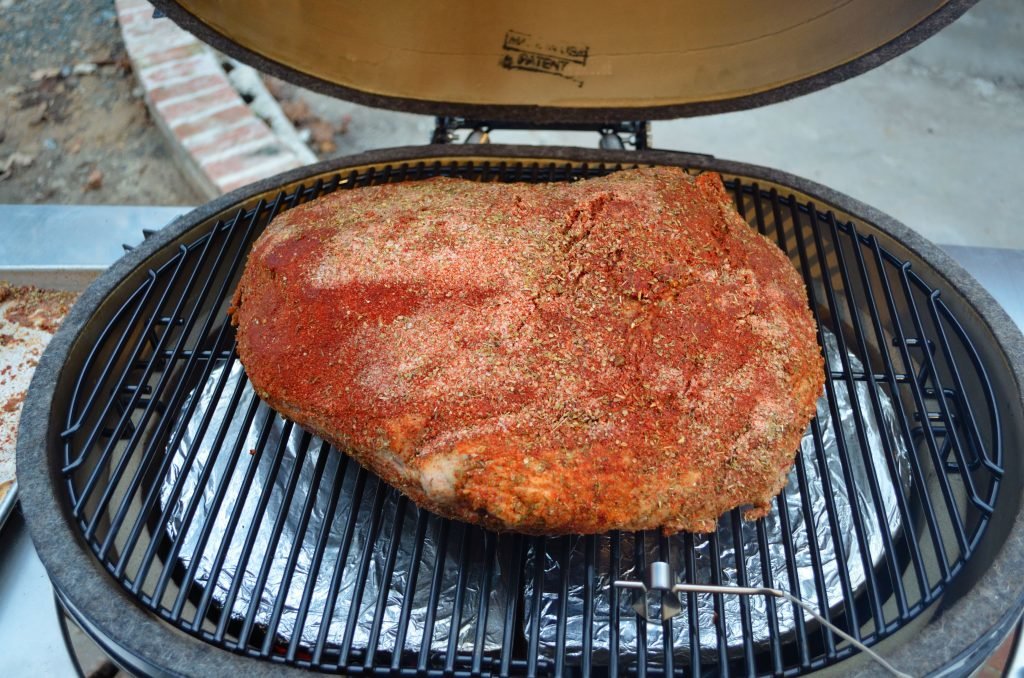 Insert thermometers & stabilize the grill at 350.   Since this was a large cut we flipped it once the internal temp was around 100.  Cook until internal temp is 130-135 for a nice medium rare.  This size cut took about 3.5 hours.
Most Marylanders would expect to put this on a Kaiser roll with raw onions and either horseradish, horseradish sauce (tiger sauce), or even BBQ sauce.